My vision
"To offer reliable translations but also to offer outstanding customer service which will entice clients to come back."
After living in the UK for ten years and working in a number of managerial roles, I have decided to pursue a career in what has always been my passion, translation. In order to be able to translate professionally it is not enough to enjoy doing it or to speak a language correctly, one needs to be trained to do it. I have an English degree from Madrid´s Complutense University as well as a Masters in Translation from Bristol´s University of the West of England, UWE.
I collaborate with translation agencies such as Smartling, VerbalizeIt, Welocalize, Locteam or Adapt Worldwide carrying out translation, interpreting, transcription and review services and acquiring very valuable experience translating social science and geopolitical texts as well as translating for some of the technological and e-commerce industry's biggest names such as Apple, Nvidia or Udemy. I am currently the Spanish language lead for a pool of translators for a very important client with Welocalize. I am also the remote Spanish Language Lead for a very important technological company with Adapt Worldwide.
I worked for Electronic Arts as a video game certification tester for 5 months. The job consisted in testing all the video games that EA is releasing to market for potential bugs to comply with first party requirements as well as protecting the brand for potential bad reputation, should the product not meet the company´s high standards. The games were tested thoroughly in all areas including the linguistic department to ensure all content had been fully localized and error free. Strong English language skills, attention to detail, creativity, analytical mindset, patience and passion for games were some of the abilities necessary to perform this role.
I have a great deal of experience working for John Lewis, one of the most prestigious UK companies, which is internationally renowned for its outstanding customer service. That is why my customer service is always extraordinary and my main objective is the customer´s happiness. I am sure that if we work together you will call me again if you need a translator. Please use the "contact section" with the job details to obtain a quotation and I will reply as soon as I possibly can.
About me
My name is Antonio Arizcun. I am a Spanish translator and video games and software localizer with a Masters in translation from University of the West of England, UWE. I have lived in the UK for ten years and I have work experience in other areas such as video games industry, business and retail. I have experience using TRADOS and I own a license. I am a Proz.com certified Pro 
 and a full professional member.
I was born in Madrid but I currently live in Segovia, I enjoy reading, cooking, exercising and travelling.
Please feel free to contact me for anything you need, there is not such thing as a small job!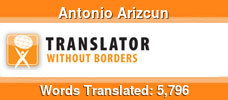 Specialisation
I offer video games localization and software localization, and I have completed completed courses in the subject by Pablo Muñoz and Tragora formacion. I also offer English to Spanish translations in the following specialities: e-commerce, social science, sports, marketing, business, and retail. I have translated over 1,000,000 words in those areas. I am a Translator without borders member and collaborate with them doing pro bono work. I also translate game add-ons pro bono for starting game developers and I have worked for EA as a video game certification tester. I am quick to learn and I have a good all-round knowledge so please feel free to contact me if you need a translation outside these areas.